Perfectly Imperfect: Disabled Mannequins in Zurich Store
Leave a Comment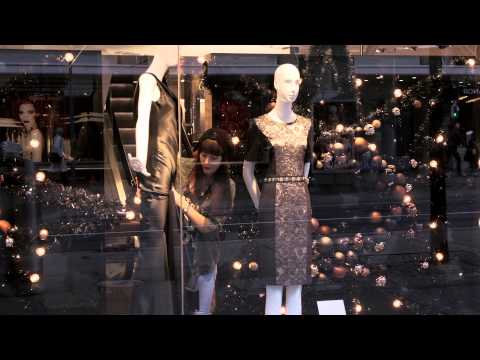 When you read the title, "Perfectly Imperfect:  Disabled Mannequins in Zurich Store," what came to mind?  For many of us, the distorted and unrealistic body imagery in the mass media are inescapable, and grossly affects the way we view ourselves in comparison to those we know, and the celebrities we idolize.  Being tall and slim with perfect hair and skin complexion are worshiped as the standards of beauty in our society; the majority of us may not fit that standard exactly (if at all), but our uniqueness is beautiful in its own right.
People with disabilities do not typically observe images of themselves in the media or the general public that celebrates the diverse body shapes and sizes they possess.  That all changed on December 3rd, which is recognized as International Day of Persons with Disabilities (IDPwD), when the Holiday mannequins in the windows at the Bahnhofstrasse, a clothing store on Zurich's main drag, showcased the body shapes of five disability activists.  As you will see in the video posted above, each disabled mannequin was created in the likeness of each activist; every inch of the activists were measured and photographed in order to capture their essence.  The reactions each of the disabled activists had in the unveiling of their disabled mannequin was moving; to see yourself in a different form evoked ardent emotions for some of them.  One activist placed his prosthetic leg on his mannequin while another traced the outlines of the curves that represented the ones on her body.
Reactions to the Disabled Mannequins
Seeing the disabled mannequins displayed for passersby to view was empowering.  The reactions of most were positive; the children's reactions to the mannequins showed how important it is for children to be exposed to the differences of others.  When children, who will eventually become adults, gain such exposure at an early age, respect and understanding about how people with disabilities are no different than they are will flourish, while the stereotypical and oppressive fears and misconceptions surrounding those with disabilities will diminish.
The Takeaway Message
The takeaway message of this powerful moment is:  disabled bodies may move or function differently, but that is where the distinctions begin and end.  Disabled bodies are beautiful, works of art and wonder; they are not shameful, ugly, or defective creations.  More acceptance of disabled bodies should exist in our world, not just on certain days of the year.  More opportunities for people with disabilities should be made available for us (since I am a proud member of this group) to see positive images of disabled bodies.  People with disabilities need to be seen on magazine covers, campaign ads, in books, movies, and television, and other facets in society.  We are an invisible minority group, though we make up over one billion strong.  We cannot afford to remain silenced and unnoticed anymore.
Creating More Positive Body Images for People with Disabilities
Campaigns like Pro Infirmis is a step in the right direction, but our efforts cannot stop there.  How can we demand for more positive body images of people with disabilities to be produced in the mass media and general public?  Is the answer in the establishment of blogs, websites, marketing advertisements, and/or organizations with this particular focus?  What about children with disabilities – what can be done to ensure that they have positive self-esteem, self-confidence, and healthy body views as they grow older?  Children need to see representations of who and what they are; who within the disability community will step up to become role models for children with disabilities?
Do you have the answers, or creative suggestions, to the questions I posed?  If so, share them with me.  I would love to know how you plan to generate more positive images of people with disabilities that will not only empower those within this group, but also shift the way disabled bodies are viewed by the general public.
(Featured image credit:  Courtesy of How Are You.)
About Vilissa Thompson, LMSW
Vilissa is the Founder & CEO of Ramp Your Voice!, an organization she created to establish herself as a Disability Rights Consultant & Advocate. Ramp Your Voice! is a prime example of how macro-minded Vilissa truly is, and her determination to leave a giant "tire track mark" on the world.