Lady Sings the Blues: Black Women & Mental Health
Leave a Comment
This week, I wanted to spotlight the important discussion I watched over the weekend concerning Black women and mental health.  Exhale is a television talk series on Aspire that features a panel of five African American women who discuss issues and topics that affect the African American community.  During the second season of Exhale, the ladies decided to explore the issues of mental health in the African American community.  Watching this particular episode struck a deep nerve for me, both as an African American woman and a helping professional.  It was validating to watch those who have been impacted by mental illness share their stories.
Jenifer Lewis, one of my favorite TV and movie actresses, shared her battle with owning her bipolar disorder on this episode.  Lewis, a woman whose personality is so "divalicious" as I would call it, kept it real about what it meant to have bipolar disorder, and the importance of wanting to get help.  She mentioned going to therapy for 17 years, and taking care of herself so that she could enjoy her life and her success.  Lewis made a pivotal point about getting better with mental illness:  "you have to want to be well."  She used my favorite saying in her statement:  "you can bring a horse to water, but you can't make them drink."  Basically, you cannot force someone to get well; they have to want it.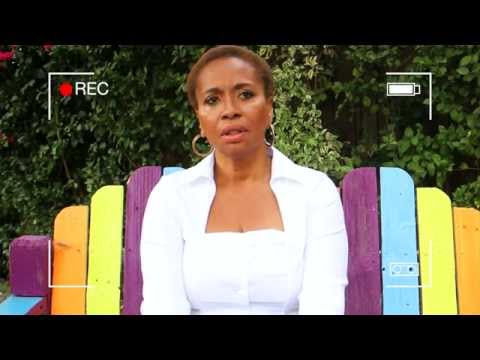 (Jenifer Lewis' full length interview for "Black Actress" where she discussed her plight with bipolar disorder, and her career as an entertainer.)
Lewis' candidness was powerful because as Black women, we do not talk about our weaknesses, or our challenges.  We place pressure on ourselves to appear strong and have it together, while we are prisoners in our own minds, and are slowly crumbling each day.  Having a mental illness is not a weakness; it is a part of you that you have to learn how to own, and how to take care of yourself.  You have to want to become a better you, which may mean going to therapy and/or being on medication.  You cannot simply pray your mental illness away; you have to put in the work to get stronger for yourself because you are deserving.
My Own Bout with Singing the Blues
I realized last month that I have been feeling blue from dealing with an on-going issue with a state agency in South Carolina.  Last October, my hearing aids stopped working, and I asked for assistance from this agency to acquire new hearing aids.  It has been eight months, and progress is now being made on my case.
During the past three months, I realized that my sleeping habits and energy level had been off-track.  Though I was functioning in my environment when it came to day-to-day living, my coping mechanism for handling the stress, uncertainty, and frustration was sleep.  Sleeping was my way of "forgetting;" of quieting my thoughts about this situation.  Though exercising helped to center my mind in the daytime so that I could work on building RYV!, and fulfill my obligations for other people and community affiliations, going to bed at 9 – 10 pm was my way to cope with the anger and sense of helplessness I had when the sun went down.  Even though I got the recommended 8-9 hours of sleep, I was still exhausted.  I knew that I should not have been tired from getting that much rest on such nights.
During this experience, I have never felt so helpless and devalued as a disabled person in my life, and it was because an agency that was supposed to provide services to me was not fulfilling its role.  I have worn hearing aids for 15 years, since the age of 13 when I was diagnosed with OI-related hearing loss.  I felt like the 7th grader again who sat in front of the class, scared to be called upon because I could not hear what the teacher said, and worried about my classmates laughing at me.  That fear has grown steadily these past eight months, and I feel so disengaged from my environment.  On top of that, I was angry that no one at this agency gave a damn about my need to hear, and was playing politics with my quality of life.
The Epiphany Moment
When I finally realized what was going on, I had to do a self-check.  Sleeping 8-9 hours a night to "escape" the stress was not a solution; it was a band-aid.  Though getting enough sleep is important for my health, it was not solving the mental and emotional angst I was experiencing from this situation.  I had to regain control, and in that, regain myself.  Discussing my feelings with those I knew, journaling, watching TV or movies, reading, and on those days when the stress level was too much to deal with (especially if there was a setback with progress), understanding the difference between being "stressed tired" and "tired because it is 11-12 at night."  These tactics had been my usual "go-to's" for stress, but I really had to rely on them heavily during this time.  I was determined to not let this episode of minor depression, or this agency, "win" – I am stronger than both of them.
My episode with minor depression is not as severe as it is for others, but it is something that I am not ashamed to share.  (Minor depression is similar to major depression except it only has two to four symptoms.)  Mental illness is not shameful, and we as Black women have to learn how to recognize the signs, and seek help.  Black women (and Latinas) tend to display the physical symptoms of depression more than White women.  The sleeping pattern and tiredness I felt was not unusual, as I learned from the Exhale episode.  Hearing the mental health specialist on the show discuss that was empowering because I realized that it was not "just me" – others have endured similar symptoms.
Words For My Sisters
At the end of the day, if you are feeling disengaged from your environment because of depression, suicidal thoughts, bipolar disorder, personality disorder, schizophrenia, etc., seek help, my Sisters.  We need you here, and we need you WELL.  You can get well.  The first step is recognizing and owning that you are not at 100% as you could be.  The second step is seeking help to get there.  The third step is staying there after receiving help by using the new coping strategies you learned, and taking medication, if needed.  The fourth step?  Sharing your testimony with other Black women so that they will realize that they are not alone.  It is not the illness that kills us; it is the silence, the shame.  Speak up, speak loudly, and speak your truth.  
For more information about mental health issues, and how to get help, check out the following resources:
(Featured headline image:  Courtesy of Praise Cleveland.)
About Vilissa Thompson, LMSW
Vilissa is the Founder & CEO of Ramp Your Voice!, an organization she created to establish herself as a Disability Rights Consultant & Advocate. Ramp Your Voice! is a prime example of how macro-minded Vilissa truly is, and her determination to leave a giant "tire track mark" on the world.