High School Student Invents Wheelchair Stroller for Disabled Parents
Leave a Comment
As someone who may want to become a disabled parent one day, one of the many concerns I have is how I would carry my child around as a wheelchair user.  I know that there are baby wraps that I can wear while my child is very small, but as she/he grows, I will need something that will grow with her/him and allow me to transport them to and fro safely and comfortably.  This need is one that has been grossly overlooked in the parenting/baby supplies industry.  Imagine my excitement when I learned about a high school student from Michigan who invented a wheelchair stroller to bridge that gap for parents in wheelchairs.  I had to feature it for the "Tools You Can Use" series because this is a product that would personally improve my abilities as a future disabled mother.  
Empowering Disabled Parents in Wheelchairs:  Why This Invention is Impactful
Alden Kain is the 16-years old high school student who designed this incredible device, giving wheelchair-using parents the ability to carry their child while they rolled.  Alden began working on the project during the spring term of his senior year, and he had a wonderful motivation to do so – Sharina Jones.  Sharina was an expecting mother who uses a wheelchair; Sharina became disabled due to a gunshot wound at the age of five.  Sharina, like many women in wheelchairs, wondered how she would be able to properly carry her child and go for walks like any other mother does.  The worry about not being able to do something as simple as taking one's baby out for a walk/roll is a reality for disabled parents in wheelchairs; currently there are not many adaptive strollers on the market to purchase that would empower our parenting and bonding abilities with our child.  Alden's invention is one step closer to extinguishing this problem for wheelchair-using parents.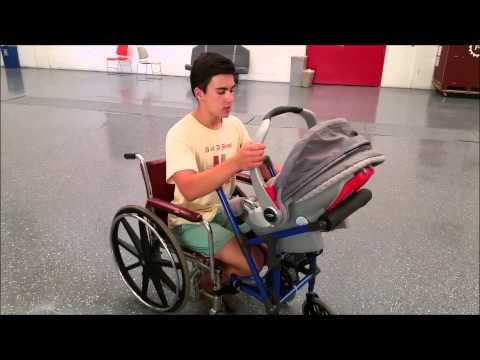 Alden not only had his grade to think about in creating the stroller, but also Sharina's July due date.  Alden and Sharina discussed how such a stroller should benefit disabled parents, and the mechanics to pay close attention to so that it is truly effective in what it is supposed to do.  Receiving this level of insight from an actual wheelchair user definitely allowed Alden to outline and construct a device that is not only safe for parent and child to utilize, but also takes into consideration workings such as unhooking/hooking the stroller to the wheelchair, providing storage for a diaper bag, making sure that the baby carriage will fit snugly, and the ease the stroller should have to move about with the wheelchair.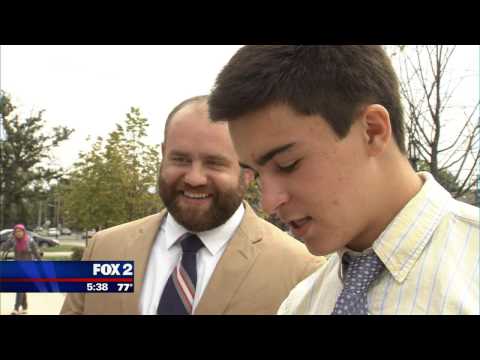 From the above video, you can see how Sharina is able to use the stroller with her baby in it, and how much freedom she has to move about without limits.  That is something every disabled parent should be able to experience, and in this area, we now can.  
Final Thoughts
Alden is in the process of patenting the wheelchair stroller design so that more parents in wheelchairs can use his invention.  This is one invention that I hope will be available to the public in the near future.  I enjoy seeing our youth design products that aim to make life easier for all people, and especially fill in a gap for disabled people.  As I said in the beginning, this is a product that will greatly impact my parenting experience whenever I decide to become a mom.  Alden has showed through his invention that disabled parents need to be on the radar for companies that create parenting products – we cannot be left out and inhibited from fulfilling our parental roles in the ways we desire.
(Featured headlining image:  Courtesy of DL Hughley GED Section / Today.com/Parents.)
About Vilissa Thompson, LMSW
Vilissa is the Founder & CEO of Ramp Your Voice!, an organization she created to establish herself as a Disability Rights Consultant & Advocate. Ramp Your Voice! is a prime example of how macro-minded Vilissa truly is, and her determination to leave a giant "tire track mark" on the world.